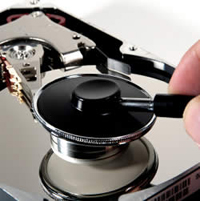 Recover lost files and passwords!




Nothing can strike terror into someone more than going to retrieve an important file only to find it is mysteriously missing or accidentally deleted! First of all don't panic. Almost all data can be retrieved. Second, DON'T DO ANYTHING ELSE ON YOUR COMPUTER! It is best to turn your computer off and do not turn it back on until you have an experienced professional diagnose the problem. Missing files can be caused by many different things such as virus attacks, backup failure, physical media damages, mechanical failures, natural disasters, drive crashes, power outages and of course human error. Well, here is the good news. All Microsoft platforms including Windows do not actually delete a file even though you instruct it to do so. Rather, it simply marks the file space as being "available". The file is still whole and intact on your hard drive. (You can see this can be a security risk. Check out our section on security!) Even in the case of lost clusters and damaged index files there are advanced applications that can recover your data. That is the good news. The bad news is if your computer writes to the hard drive for any reason it can grab any of these files and write over part or all of them. That is why it is important that you stop what you are doing immediately! It is also important to turn your computer off because there can be many programs that are writing to your disk automatically. Further, it is also important not to turn the computer on again since other applications also write to the disk when your system is starting. We have been called many times to recover files and have an almost %100 success rate as long as you follow these two rules. The only time we have not been able to recover lost or deleted files was due to hardware failure. Information has been known to survive fires, being crushed and even being sunk under water for over a week. Unfortunately, his type of data retrieval requires a highly advanced lab and is very expensive. If you are interested in this service send us an e-mail and we can refer you to one of these companies. This is just another reason to backup regularly! Did you backup today? If you are missing data contact us today and we will send out a qualified technician to diagnose the problem.




Rates Don't pay more! Don't settle for less!
Place an order or support call

Frequently asked questions

Ask a question It's free !

Contact us